PRESS RELEASE
UPDATED: MAY 27, 2021 15:00 EDT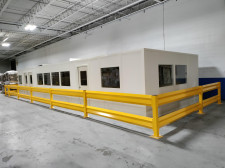 ATLANTA, May 27, 2021 (Newswire.com) – The past year has put pressure on all industries, including the construction sector, with contractors trying to keep up with project timelines while protecting their workers at the job site. Looking to increase their overall efficiency and keep up with looming deadlines, many firms have turned to modular construction to help meet these needs.  Before the pandemic, modular methods had been steadily increasing in popularity. However, the controlled construction method has seen increased adoption due to COVID and may be sweeping the construction industry sooner than previously expected.
Dodge Data & Analytics SmartMarket Report "Prefabrication and Modular Construction 2020" (compiled pre-COVID) states,
"Design firms and contractors agree that both prefabrication and modular construction are providing significant improvements to cost, schedule, quality and safety performance, productivity, client satisfaction and their ability to reduce waste."
Dodge's report surveyed construction architects and contractors from across the United States and found that the benefit most commonly associated with modular construction is "Improved Productivity," with 93% of respondents reporting medium to very high positive results. Additionally, measurable benefits were reported in overall quality, schedule certainty, cost predictability, waste reduction, client satisfaction, and safety performance.  More than 83% of respondents reported seeing each of these benefits.
In the survey, design firms and contractors selected among five distinct drivers for future use of modular construction. These are the "most compelling benefits" that would potentially cause them to implement modular construction within the next three years. The overwhelming majority of respondents selected "Improves Project Schedule Performance" at 97% seeing the benefit as a driving factor. Further, 81% cited lower construction costs, and 72% selected improved building quality as an important driver.
With the COVID pandemic, many companies have turned to modular construction to meet changing needs, not just in the construction industry but in the workplace. COVID testing areas, office reconfigurations, temperature screening stations: these structures have all become great applications for modular construction thanks to fast project times and minimal on-site disruption.
Source: https://www.newswire.com/news/why-is-modular-a-growing-trend-in-construction-21400746